About the Macfarlane Generators Hire Fleet

Macfarlane Generators is Australia's largest generator specialist, with the best selection of reliable generators and loadbanks available at competitive rates.

Whatever your Hire Plant and Power needs, Macfarlane Generators has a generator for practically any occasion including public events, camping, building sites and construction or emergency power. Our Generator Hire units are also used to supply "quiet power" to the Australian film and television industry for the production of films and TV programs on location.

We have a large range of Power Generators, Loadbanks, cables (three phase, single phase), Distribution Boards, junction boxes, stand-alone fuel tanks, cable guards, remote-start control units and Auto Transfer switches.

Portable Hire - We have a variety of single-phase portable petrol generators (4amp to 32amp) which produce from 1kVA to 8.5kVA. These are ideal for domestic use, or small events.

Large Hire - Hire Industrial and Commercial Generator sets - Available in both trailer and skid based designs and in silenced acoustic containers if required, these generate power ranges from 10kVA to 1000+kVA, with larger capacities possible by paralleling two or more units.

Our large generator hire units are all weather-protected, heavy duty rental specification, designed for outdoor use featuring IP66 rated switches and outlets with RCD safety protection. Many of the units are trailer-mounted for convenience. We also have some hire generators with solar panels installed on them.

All of our hire generators are from our highly reliable suppliers, such as Cummins, FG Wilson, Crestchic Perkins, Lister Petter, Yamaha, Himoinsa, Honda and Subaru, for which we are authorised dealers and can offer comprehensive support.

Macfarlane Generators can also cross-hire as requested if what you need from our fleet is unavailable, or we do not stock a particular unit.

Call us today for Generator Hire and discover why after 60 years in the Generator Hire, Service, Sales and Parts business, Macfarlane Generators are the most respected in the industry.
How to Hire Generators

1. How much power do you need?
Use the Macfarlane Generators Power Calculator to calculate the Generator size that you are likely to need, calculated by what you need to power. If you are unsure, contact us and we can help you to find a generator that suits your needs.

2. Are you going to need any accessories to accompany the Generator or Loadbank?
We have all the accessories that you may require, such as Power Boards, Cables, fuel tanks, remote-start control units and more.

3. How long will you need the Generator or Loadbank for?
Hire short term or long term, whether it be a day, a week, a month or longer.

4. Contact our dedicated Hire team with the calculate generator kVA rating, what accessories you need and how long you need them for and we will arrange the rest.

Phone or email your nearest branch for a booking or quote or Contact Us
Contact the VIC Branch: 03 9544 4222 hire@macgen.com
Contact the QLD Branch: 07 3205 6333 hireqld@macgen.com
Contact the NSW Branch: 02 9899 6699 hirensw@macgen.com
Or call 1300 MAC GEN (1300 622 436) from anywhere in the country to be connected with your nearest branch.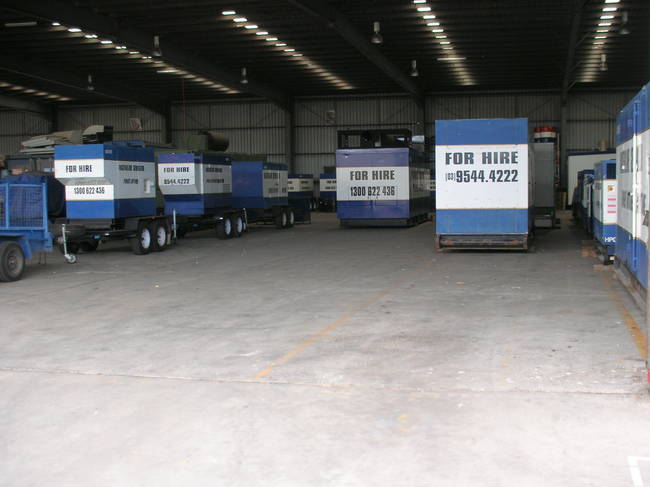 A few of our larger Hire Generators ready for dispatch from Macfarlane Generators.