Loadbank Hire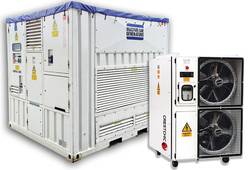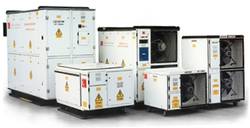 First things first... What is a loadbank? A loadbank is a device which develops an electrical load, applies the load to an electrical power source and converts or dissipates the resultant power output of the source. The purpose of a loadbank is to accurately mimic the operational or "real" load that a power source will see in actual application.
For more than 30 years, Crestchic has been designing and manufacturing British-made loadbanks that provide accurate, reliable electrical test loads for commissioning and maintaining power systems. For more than 65 years, Macfarlane Generators has been providing new and used generators for sale and hire across Australia. Our hire fleet comprises over 160 quality generators and over 30 loadbanks. We deal exclusively with world-leading Crestchic Loadbanks, offering machines from 1kW to 3.3MVA.
Macfarlane Generators is your expert for loadbank hire. We understand that it is important for you to have the correct solution and we have the necessary skills and loadbanks to help you with your load testing. Macfarlane's options of loadbanks for hire includes both small and large sets for various power testing abilities, starting from 1kW going up to 3.3MVA. Even larger loads can be supported by putting various loadbanks together. We have a complete line of AC resistive and reactive loadbanks to hire to suit your requirement. Smaller sets come on trailers for ease of transportation, and we can supply all of the necessary equipment like cables.
Why should you hire a loadbank?
Generator load testing
Synchronising checks and proof of load-sharing equipment
Hot restarts
Proven protection scheme
Rapid availability
UPS load testing
Switchboard testing
Generator Commissioning
UPS Commissioning
Generator capacity testing
UPS runtime testing
General power system proving
Any other use where a fixed or variable load is required
Phone or email your nearest branch for a booking or quote, or Contact Us
Contact the VIC Branch: 03 9544 4222 hire@macgen.com
Contact the QLD Branch: 07 3205 6333 hireqld@macgen.com
Contact the NSW Branch: 02 9899 6699 hirensw@macgen.com
Or call 1300 MAC GEN (1300 622 436) from anywhere in the country to be connected with your nearest branch.
VICTORIA HIRE LOADBANKS
| | | |
| --- | --- | --- |
| STOCK CODE | SIZE | DESCRIPTION |
| ZLP 1040 | 15kW | Crestchic Loadbank Golf Cart |
| ZLP 1278 | 100kW | Crestchic Loadbank |
| ZLP 1496 | 100kW | Crestchic Resistive Loadbank |
| ZLP 1497 | 100kW | Crestchic Resistive Loadbank |
| ZLP 1330 | 200kW | Crestchic Loadbank |
| ZLP 1484 | 200kW | Crestchic Loadbank |
| ZLP 1719 | 200kW | Crestchic Loadbank |
| ZLP 1448 | 250kW | Crestchic Loadbank |
| ZLP 1065 | 275kW | Crestchic Loadbank |
| ZLP 1539 | 300kW | Crestchic Trailer Mounted Loadbank |
| ZLP 1451 | 600kW | Crestchic Loadbank |
| ZLP 1452 | 600kW | Crestchic Loadbank |
| ZLP 1490 | 600kW | Crestchic Loadbank |
| ZLP 1581 | 600kW | Crestchic Loadbank |
| ZLP 1630 | 600kW | Crestchic Loadbank + KCS100H |
| ZLP 1489 | 600kW | Crestchic Loadbank |
| ZLP 1598 | 800kW | Crestchic Loadbank |
| ZLP 1532 | 1100kW | Crestchic Loadbank |
| ZLP 1533 | 1100kW | Crestchic Loadbank |
| ZLP 1655 | 1650kVA | Crestchic Loadbank |
| ZLP 1656 | 1650kVA | Crestchic Loadbank |
| ZLP 1620 | 3.3MVA | Crestchic Loadbank |

QUEENSLAND HIRE LOADBANKS
| | | |
| --- | --- | --- |
| STOCK CODE | SIZE | DESCRIPTION |
| ZLP 1495 | 20kW | Crestchic Loadbank |
| ZLP 1597 | 100kW | Crestchic Loadbank |
| ZLP 1651 | 200kW | Crestchic Loadbank |
| ZLP 1557 | 600kW | Crestchic Loadbank |
| ZLP 1582 | 600kW | Crestchic Loadbank |
| ZLP 1631 | 600kW | Crestchic Loadbank |

NEW SOUTH WALES HIRE LOADBANKS
| | | |
| --- | --- | --- |
| STOCK CODE | SIZE | DESCRIPTION |
| ZLP 1596 | 100kW | Crestchic Loadbank |
| ZLP 1330 | 200kW | Crestchic Loadbank |
| ZLP 1556 | 600kW | Crestchic Loadbank |
| ZLP 1581 | 600kW | Crestchic Loadbank |