Best Quiet Generators for Camping
Imagine this: You're enjoying a nice, cold beer and admiring your handiwork on the tent you've just put up. You can hear the sound of the birds in the trees and the nearby river splashing against the bank. Then, your camping neighbour starts their old, smelly, noisy generator. Goodbye serenity.
Nobody likes a noisy generator, but nobody likes being without one (how else would you cool your beers?). Fortunately, generator manufacturers understand the struggle, and they've designed units with your ears in mind.
In addition to noise, there are a few key considerations when looking to buy a new portable generator:
Price: This can be a good indicator of other factors such as product quality, support, and performance. A low cost generator can be great for the occasional camper, but like any product, you'll be getting what you pay for so do your research! Low cost generators like Cromtech or Pramac are a great option - they're easy on your pocket but you'll also be getting bang for your buck with support networks, spare parts, and features like sound reduction and performance alerts.

Size and weight: When you're looking for a portable generator, you really want it to be portable! Take a look at the dimensions and weight of the generator - particularly for caravans with generator boxes. You want to make sure you can carry it or move it easily without breaking a sweat!

Performance: Things like run time, fuel efficiency, and noise levels are important features to look for. When it comes to camping and caravan generators, noise is a particularly important thing. Think back to that serene setting you were thinking of before - don't let a noisy generator ruin it for you.
So, what's a good level of noise from a generator?
The table below shows some common situations and their noise levels, to help you compare generator noise to every day situations.
| Situation | Noise level (dB) |
| --- | --- |
| Jet Take-Off @ 25m | 150 - Rupture Eardrum |
| Aircraft Carrier Deck | 140 |
| Chainsaw | 120 - Painful. 32 x as loud as 70dB |
| Car horn @ 1m, Riveting machine, Live rock music | 110 - Average human pain threshold. 16 x as loud as 70dB |
| Outboard motor, Power lawn mower, Motorcycle, Farm tractor | 100 |
| Dishwasher, average factory, freight train @ 15m, food blender | 80 |
| Living room music, Radio or TV-audio | 70 - Upper 70's are annoyingly loud to some people |
| Conversation in restaurant, office, background music | 60 |
| Quiet suburb, conversation at home | 50 |
| Library, bird calls | 40 |
| Quiet rural area | 30 |
| Whisper, rustling leaves | 20 |
| Breathing | 10 - Barely audible |
We've compiled a short list of different generators - from different price points, performance levels, and sizes/weights. Here's our top recommendations for quiet generators:
Premium:
Yamaha EF2000iS - 2kVA
$1,799.00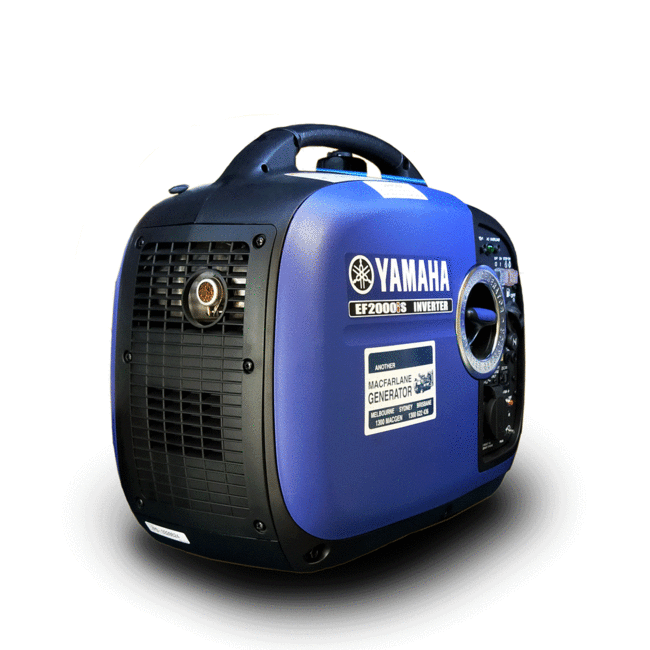 The EF2000is comes from the well-known company, Yamaha, who have a long history in creating premium products. This 2kVA generator is no exception, designed for recreational activities such as camping, fishing, and boating. With enough power to run a microwave oven, a camping fridge, small aircon, kettle, television and more, Yamaha developed this generator to be quiet and unnoticed, running at just 51.5dB at 7m on 1/4 load. A high quality muffler, air filter, and an advanced Noise Block Sound Reduction system allows you to have a conversation without raising your voice. To contribute further, Yamaha has included a Smart Throttle, which varies the engine speed based on load to improve fuel economy and reduce noise. This set has an inverter system, to power appliances with microcomputers safely (for example, your laptop or phone), which works well with the Smart Throttle system in reducing noise.
Mid range:
Pramac P2000i
$1,095.00

The Pramac P2000i petrol generator is built with a Yamaha MZ80 engine in a suitcase style body. It has a maximum output of 2kVA and is powerful enough to run appliances like a microwave, camping fridge, small aircon, kettle, television, and more. As with most camping generators, this set is built with inverter technology to be used with laptops, phones, tablets and other sensitive equipment. The generator runs a little bit louder than the Yamaha, at 59dB at 7m - imagine a restaurant or your office background noise. It also only weighs 22kg, making it super easy to carry and transport. As a mid-range option this generator is perfect, with easily accessible support, quiet operation, and quality features.
Wallet Friendly:
Cromt
ech
Outback CTG2500i
$849.00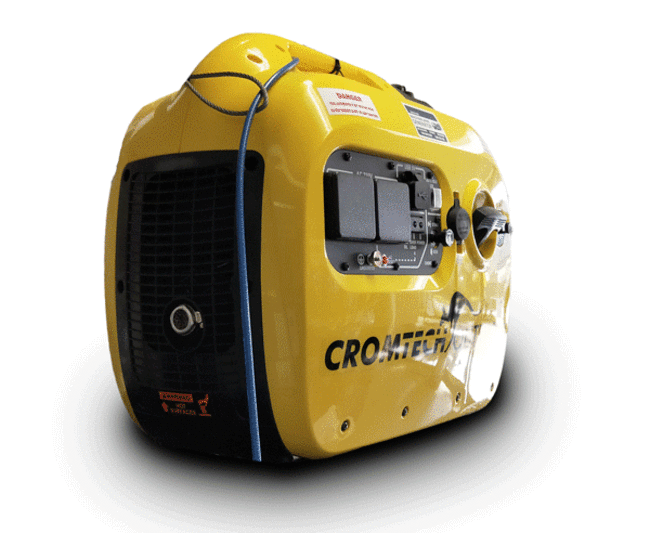 The Cromtech Outback CTG2500i is built as a low-budget, quiet camping option. With a maximum output of 2.4kVA, this generator is strong enough to power all basic camping equipment such as a microwave, camping fridge, small aircon, kettle, television, and more. At about 60dB at 7m, it's a little bit louder than the Yamaha EF2000iS - but not by much. Comparatively, 60dB is the equivalent of conversation in a restaurant, office, background music, or an air conditioning unit at 100 feet. With an eco-mode to adjust the throttle as load requires, as well as inverter technology for sensitive equipment, noise levels can be further reduced. At this price point, the Cromtech Outback is the best option for low-noise camping generators - particularly for the less frequent camper or a first time generator user.