Macfarlane MaxiBund is an innovative design accompanied by the highest quality in manufacturing. Our range of products designed to provide effective fuel storage and transport solutions while protecting your environment. We have and extensive range of high quality bunded fuel tanks for the construction, agricultural and industrial sectors.
Why Choose Macfarlane MAXIBund Fuel Tanks?
All Tanks designed to meet ADR and UN Certification

110% bunded in accordance with current environmental legislations

All tanks manufactured from high grade mild steel and are treated with a 2 pac paint

All tanks are stackable 3 units high for better storage (2 units high when full)

Pressure tested inner tank

Lockable for security

All tanks come with fork pockets and lifting eyes as standard

All tanks have a removable lid for easy maintenance and an inspection hatch on the inner tank

All tanks contain inner baffle plates for safer transport

All tanks come with a breather, pressure release valve and a visual fuel gauge as standard

All tanks come with at least 2 supply and return fuel connections

All tanks come with a 2 year guarantee

Optional: Electronic fuel senders
Macfarlane MAXIBund Specifications
Model

Capacity

Dimensions

Weights

Ltrs

Length

Width

Height

Dry (KG)

Wet (KG)

MB500

500
(500 safe fill)

1460

1065

800

395

825

MB1000

1000
(950 safe fill)

1110

1670

1235

680

1488

MB2000

2000
(1800 safe fill)

1190

2550

1235

980

2680

MB3000

3000
(2700 safe fill)

1710

2550

1235

1150

3700

MB4500

4500
(4100 safe fill)

2060

3000

1235

1650

5175

MB6300

6300
(5950 safe fill)

2226

3560

1235

2150

7205
About Bunded Fuel Tanks
Bunded fuel tanks are used for a range of applications from power generation to fuel transport. These tanks are designed specifically to protect the environment from leakages of liquid causing harm and pollution. An internal tank holds the stored liquid, should this tank rupture. The outer tank contains the fuel, preventing any leakage. At this stage the fuel can be removed safely and the inner tank repaired/replaced, with no harmful effects to the environment.
Internal Arrangement
All Macfarlane MAXIBund tanks come with the arrangement shown as standard. Bespoke solutions can be arranged on demand to suit your specific requirements. There are 3 supply/return connections for supplying multiple units. A pressure release valve and an air vent is installed on all tanks to which meets stringent European fuel transport legislation. A Lockable hatch with 2 gas struts is used to keep all connections safe, and inside the bund.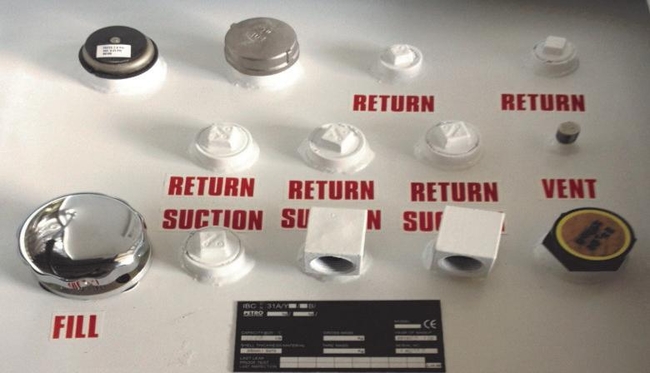 Baffle plates are installed on all tanks to keep the load under control during transport. This system divides the tank into compartments and stops the liquid swaying from side to side and gaining unified momentum. Cut-outs on the corners and centre of these plates allow a controlled flow of liquid between the chambers.