Work site generator compliance guide
What is worksite compliance?
Generator worksite compliance is highly important for your safety, and the safety of anyone who will be near the generator. As with any equipment taken onto a worksite, there are standards that must be met to ensure everyone can get home to their families, partners, and pets at the end of the day. While every generator is designed for safety, worksite compliant generators have a few extra features specifically for those environments.
For more detailed information please visit Worksafe.vic or Worksafe.qld
To be considered a worksite compliant generator, it must meet minimum requirements. Worksite and Hire Spec generators must have an earth leakage or main circuit breaker (RCD) fitted. Ideally, these generators will have extra safety features beyond the minimum requirements. Features to look for:
Weatherproof outlets
RCD safety switches
Circuit breakers
Wheels
Handles
Lift Bars
IP Ratings
You'll notice when looking at worksite compliant generators, they'll have an IP rating; e.g. IP65. An IP (Ingress Protection) ratings are defined by international standards (EN60529) and are used to define levels of sealing effectiveness when in contact with foreign bodies (tools, dirt etc.) and moisture.
The first digit of an IP rating indicates the degree of protection for people from moving parts, as well as protection of enclosed equipment from foreign bodies. The second digit defines the protection level that the enclosure enjoys from various forms of moisture (drips, sprays, submersion etc.).
First Digit (protection from foreign bodies)
Second Digit (protection from forms of moisture)
1
No special protection.
No protection.
2
Protection from a large part of the body such as a hand (but no protection from deliberate access) from solid objects greater than 50mm in diameter.
Protection against condensation.
3
Protection against fingers or other objects not greater than 80mm in lengths and 12mm in diameter.
Protection against water droplets deflected up to 15° from vertical

.

4
Protection from entry by tools, wires (etc.) with a diameter of 2.5mm or more.
Protection against spray up to 60° from vertical.
5
Protection against solid bodies larger than 1mm.
Protection against water spray from all directions
6
Protected against dust that may harm equipment.
Protection against low pressure water jets from all directions.
7
Totally dust tight.
Protection against strong water jets and waves.
8
-
Protection against temporary immersion.
9
Protection against prolonged effects of immersion under pressure.
The most common IP ratings you'll come across are:
IP65 - Dust tight and protected against water projected from a nozzle
IP66 - Dust tight and protected against heavy seas or powerful jets of water
IP67 - Dust tight and protected against immersion
IP68 - Dust tight and protected against complete, continuous submersion in water
Recommendations
Here are a few good worksite compliant generators available online:
4kVA Cromtech Trade Pack Generator (CTG40TP)
The Cromtech Petrol Trade Pack generator is designed for tradies and people that need a high quality, simple, and no-fuss unit. It's designed to be worksite friendly to an IP65 rating and has 10amp weatherproof outlets with RCD protection. The Cromtech is built with an Australian made steel roll frame with in-line wheels, a central lifting hook, and transport handles.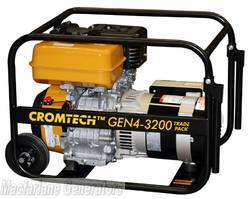 7kVA Maxigen Trade Pack Generator (MG7TP)
This no-frills 7kVA Maxigen portable generator is custom designed and hand built in-house at Macfarlane Generators, Melbourne. It's a single phase unit powered by a reliable American designed 12HP Kohler petrol engine. It comes with recoil start and an Italian-made brushless NSM alternator.
This generator has been specifically tested and built for the Australian environment, both on-site and at home. At a fraction of the cost of brand name generators, this unit is a cost-effective, no fuss unit and is backed by Macfarlane's Pre-Delivery, a 12 month warranty, and servicing from the very people who built it.
It's built with RCD protection, circuit breaker, 2 x 15amp weatherproof outlets, wheels, and handles.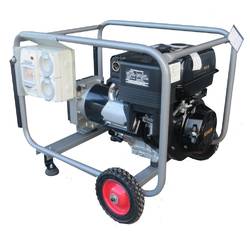 10kVA Makinex with RCBO Protection
The 10kVA Makinex generator range is a robust, powerful, and reliable solution for providing power to equipment and tools, floor grinding, welders, brick saws, air compressors, and a wide range of applications. Built with a Honda or Kohler motor and RFL alternators for 15% more power, this unit is easy to handle thanks to its frame, wheels, and handle.
It's built with RCBO Protection (Residual Current Circuit Breaker with Over Current Protection), as well as 2 x 15amp outlets (single phase) and 1 x 20amp outlet (3 phase).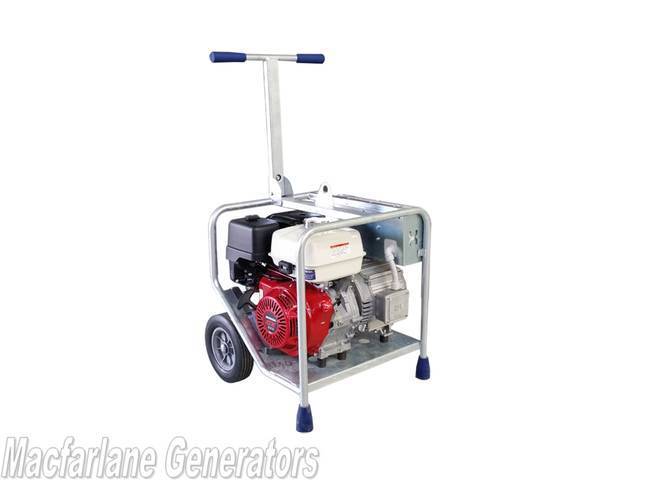 Do's and Dont's
Some extra generator safety tips (for both worksite compliant and non-worksite generators):
DO:
Keep the generator outside - never use it indoors.
Install a battery operated carbon monoxide alarm.
Keep the generator dry (don't use it in rain or wet conditions - even if it has weatherproof protection!). Protect it from moisture by operating on a dry surface under an open canopy-like structure.
Dry wet hands before touching the generator.
Plug appliances directly into the generator or use a heavy duty outdoor-rated extension cord that is rated in watts or amps at least equal to the sum of the connected appliance loads. Check that the entire cord is free of cuts or tears and that the plug has all three prongs - especially an earthing pin.
DON'T:
Never try to power the house wiring by plugging the generator into a wall outlet (known as backfeeding). This is extremely dangerous and is an electrocution risk to utility workers and neighbours who are served by the same utility transformer. It also bypasses some of the built-in household circuit protection devices.
If you must connect the generator to the house wiring to power appliances, get a licensed electrical contractor to do it in accordance with AS/NZS 3000 electrical installations (known as the Australia/New Zealand wiring rules).
Avoid creating a fire hazard. Store fuel for your generator in properly labelled non-glass safety containers. Store out of the home and away from fuel burining appliances such as natural gas water heaters in the garage.
Before refuelling the generator, turn it off and let it cool down. Fuel spilt on hot engine parts could ignite.