Details
The AVR 380 is a solid state device designed to give accurate and stable voltage regulation of 50 or 60 Hz AC alternators under varying load conditions. The AVR 380 is a universal Australian designed and manufactured AVR that directly replaces the Dunlite UVR100, but will also electronically replace almost all known voltage regulators with or without separate excitation.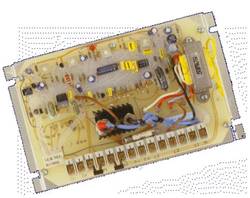 The AVR has several features:
*Voltage adjustment
*Wide range of stability
*Under speed adjust (& voltage droop)
*Transformer isolated voltage sensing
*Over voltage crow bar protection
*Overload sensing & shutdown
*Remote voltage adjustment
The AVR 380 will replace the some following AVRs from :
Caterpillar, Dunlite, Markon, Contrology, McColl, Odra, Kaito, Newton Derby, Marathon, Kubota, Lister, Basler and many more.