FG Wilson Olympian CAT Power Wizard 1.0 917-466
On Sale!
$2,090.00
$1,320.00 inc GST
($1,200.00 ex GST)
Every generator we sell is:
Filled with oil at no extra cost
Run & load tested to rated capacity
Ready to use as soon as you receive it
Power Wizard 1.0, Genuine OEM Product. Suits FG Wilson, CAT and Olympian Generator Sets.

The FG Wilson PowerWizard control panel has a simple menu navigation with advanced metering and protection technology. These panels are also used in automatic mains failure applications .

The PowerWizard range monitors and controls the Genset, whilst ensuring it operates within safe parameters, and provides important diagnostic information when needed.

NOTE: We have a limited quantity of new and unused PowerWizard 1.0 panels. These panels were removed from new FG Wilson and CAT generators and replaced with the higher specification PW 2.1 panels.
Details
General attributes
Modules for FG Wilson and CAT Gensets.
Simple menu layout for ease of navigation and monitoring
20 event logs available of PowerWizard 1.0 & 2.0
Robust electronics
Shortcut keys for immediate access to engine or AC metering
Integrated metering and controls reducing components & wiring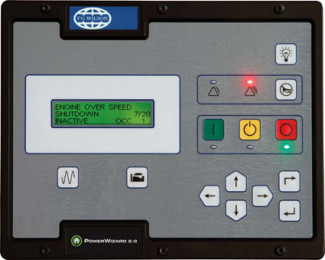 Specifications
Input voltage DC = 10.5 - 32
Relay outlet = 2 Amps Maximum at 28 Vdc
AC current input = 5 Amps and 1VA maximum
AC rms voltage input = 600 volts AC line-to-line maximum
Weight = 3.0kg
Dimensions = 35 x 35 x 16cm (approx packed size)
( All units require are supplied with a base program that needs to be updated to match the Genset it is being fitted to. The Technician fitting this unit usually programs the panel or if the full Genset ID number and details are supplied, we can program the units before dispatch for an additional fee. )